Hempstalls Childcare
Free childcare for 3 & 4 year olds at Hempstalls Primary School
What's on offer?
All 3 and 4 year Olds in Staffordshire are entitled to free childcare for 15 hours a week during school term times.
This is over 38 weeks per year during school term time, although some settings may be pro rata.
When will my child be eligible?
Your child is eligible from the school term| after their 3rd birthday:
| | |
| --- | --- |
| Born between | Free places can start from |
| 1st January - 31st March | Summer term (from 1st April) |
| 1st April - 31st August | Autumn term (from 1st September) |
| 1st September - 31st December | Spring term (from 1st January) |
How do I claim my free places?
Contact your childcare provider. You will be asked to complete an application form-they will then submit a claim on your behalf, and no money or vouchers are passed to you.

The funding is paid directly to the childcare provider.

The free places are then automatically deducted from your childcare bill.
Remember: you do not have to attend for additional childcare, you can simply attend for the free places if you choose. Parents/Carers should not be charged for additional hours not required or attended for.
Where are free places available?
Your child can attend any childcare provider that is registered to provide free places, as long as they have places available. Providers will include:
Accredited Childminders that are part of a network;

Day Nurseries (Private, voluntary, independent, academy or governor run);

Pre-schools, Playgroups and Wraparound;

Maintained Nursery schools and classes;

Children Centres and Some Creches
Scroll down to read more about 30 Hour Childcare!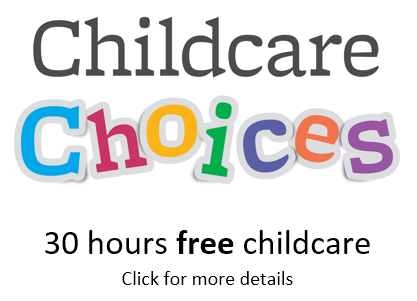 For printable information, click here.
Am I entitled to 30 Hours FREE Childcare?
You and your partner must expect to earn (on average) the equivalent of working 16 hours a week at your national minimum wage (£120 at the National Living Wage, less if you are on the National Minimum Wage)

If you, or your partner, are on maternity, paternity or adoption leave, or you're unable to work because you are disabled or have caring responsibilities, you could still be eligible

You CANT get 30 hours free childcare if you, or your partner, expect to earn £100,000 or more
When can my child claim their 30 Hours Free Childcare?
Your child can start in their childcare place the term after they turn 3 years old and have received a valid 30 hours code, whichever is later. Term start dates are 1st September, 1st January and 1st April
I am not eligible for 30 Hours Free Childcare, can my child still do more than the Universal 15 Hours?
YES!

We offer Wrap Around Childcare for those that are not entitled to 30 Hours Free Childcare. Your child will access their Universal 15 hours each morning (Session 1), giving you the option to top up the funding in an afternoon (Session 2), at a cost of £10.50 per session.
How does it work at Hempstalls Primary School?
Our current sessions are:
Session 1 9am-12pm
Session 2 12pm-3pm
If you access the 30 Hour Childcare here at Hempstalls Primary School, then you will have two options over the lunchtime period. They are:
Option 1: Pay for a school lunch at a cost of £2.20 per day
Option 2: Send your child with a packed lunch
Most importantly; you must renew your code EVERY 3 months. If you fail to do this, the funding will be ceased for that term.
Early Years Pupil Premium
The government announced in March 2014 that they intend to introduce an Early Years Pupil Premium (EYPP) for 3 and 4 year Olds from April 2015.
What is the EYPP criteria?
Any three or four year old receiving Nursery Education Funding (NEF) with any setting they will be eligible if their parents are in receipt of one of the following benefits:
Income Support

Income-based Jobseekers Allowance

Income-related Employment and Support Allowance

Support under Part VI of the Immigration and Asylum Act 1999

the guaranteed element of State Pension Credit

Child Tax Credit (provided you're not also entitled to Working Tax Credit and have an annual gross income of no more than £16,190)

Working Tax Credit run-on – paid for 4 weeks after you stop qualifying for Working Tax Credit
In addition, a child will be eligible if they:
have been looked after by the local authority for at least one day

have been adopted from care

have left care through special guardianship; and

are subject to a child arrangement order
If you think that you could be eligible please fill in the New Privacy Notice from the school office.