A warm welcome to our Early Years Foundation Stage. Come as you are, leave as a Champion!
Click on the tabs below to find out specific information for our different age groups.
Intent
At Hempstalls, we provide our children with a language rich curriculum, bursting with knowledge and skills that has no limits or barriers to achievements, regardless of background, circumstance, or need.
'Come as you are'
We recognise children's prior learning, both from previous settings and their experiences at home. We work in partnership with parents, carers and other settings to provide the best possible start, ensuring each individual reaches their full potential from their various starting points. We welcome all children to 'come as you are'.
'We Care'
We provide high quality care to ensure that children settle within their new environment and feel safe. The prime areas of learning are central to our everyday teaching, ensuring that all children are ready to take their next steps in their learning journey. Our effective practitioners provide the best for every child, ensuring that all children are given an equal chance to succeed, regardless of their starting point. We narrow the gap for our disadvantaged children through our high quality care and curriculum.
'Parents as Partners'
We develop strong, respectful partnerships with parents through effective transition, regular communication and high engagement. We use Learningbook, an online journal, to allow both school and home to share and celebrate achievements and learning. We use our professional knowledge and assessments to understand what each child can do in order to embed learning, deepen learning or move learning forward.
'Learning & Laughing Together'
Our carefully planned, ambitious curriculum allows children to embed, apply and build on their knowledge and experiences over time. Reading and vocabulary is consistently modelled and taught, encouraging rich language development and oracy. Effective pedagogy is a mix of different approaches ( play & exploration, observation , guided learning) carefully organised in an enabling environment both indoors and outdoors. We provide a careful balance of high quality play experiences and effective guided learning. As the children progress through the Early Years, the need for more guided learning increases which aids their transition to KS1.
Implementation
Every new school year staff spend time getting to know the children as individuals and plan experiences to ensure relationships are firmly built. We recognise the importance keypersons have with our young children in providing inspiration for learning, whilst providing the flexibility for children to follow their own interests and ideas.
Our Curriculum
Our Early Years team provide a nurturing and safe environment which supports our ambitious, progressive, coherently planned, sequenced curriculum. Resources are carefully chosen to meet the needs of all children and to promote learning. Children are given time to discuss and explore new learning, with regular opportunities to effectively communicate with each other and staff. Books are at the heart of the curriculum and have been carefully chosen to introduce new concepts, build upon and embed learning, introduce vocabulary and to excite and engage a love of reading and literature.
Phonics
In Cubs and Nursery children focus on Phase 1phonics which concentrates on developing children's speaking and listening skills and lays the foundations for the phonic work which starts in Phase 2. The emphasis during Phase 1 is to get children attuned to the sounds around them and ready to begin developing oral blending and segmenting skills. In Reception, all children start phase 2. Children are encouraged to read at home and are listened to regularly in school. They are given books that match their phonic knowledge in order for them to apply their learning with the aim of becoming successful, confident and fluency.
Mathematics
In Cubs and Nursery, children develop a love of mathematics through games, songs, rhymes, and play using concrete manipulatives. There is a focus on the following counting principles; one to one correspondence, stable order, cardinal principle and subitising. Children's fine manipulative skills are a focus to develop 1-1 correspondence so that children count each object only once. In cubs, children focus on numbers 1 to 3 and in nursery they focus on numbers 1 to 5 as part of our mastery approach.
Reception follow the 'White Rose Maths Scheme of work' which is divided into units. High quality learning environments and meaningful interactions with adults, support children in developing mathematical thinking and discussion. Pupils learn through stories, games and tasks using concrete manipulatives, pictorial structures and representations which are then rehearsed, applied and recorded within their own child-led exploration. Children in Reception have daily adult directed maths inputs to develop fluency, revisit key concepts and address misconceptions.
Wider Curriculum
Our wider curriculum is taught using literature through the learning areas; 'Understanding of the World' and 'Expressive Arts and Design.' EYFS staff have a good understanding of how ELG's feed into the National Curriculum through our robust planning and CPD opportunities. In reverse, colleagues throughout the school are also aware of the key ELG's that link to each foundation subject and the progression of the subject. Exciting, purposeful and contextual activities are planned to build on children's natural curiosity. For example, building a boat for their favourite toy enables them to think like a 'Scientist' and 'Engineer' as they explore a range of materials and test out their own ideas. Building further on our oracy focus, children will be encouraged to employ subject specific language and terminology in foundation subjects, and such vocabulary will be modelled, both verbally and orally, by supporting practitioners.
Our inclusive approach means that all children learn together.
We also provide a range of additional intervention and support for children who may not be reaching their potential, or are showing a greater depth of understanding and need further challenge. This includes, for example, sessions for developing speech and language, social skills, fine motor skills, phonics, and mathematics. In addition, we have a number of children on EHCPs, where bespoke plans have identified that learning may need to take place away from the classroom due to sensory needs.
Regular monitoring of teaching and learning by SLT and the EYFS leader ensure staff develop good subject knowledge and children are receiving high quality learning opportunities. The EYFS leader ensures staff receive CPD specific to Early Years to develop their practice.
Within each of the seven areas of learning for all age groups , key texts, vocabulary and termly achievements are communicated to allow staff and parents to understand the expectations within our curriculum and to ensure all children are making progress.
Impact
Children transition to KS1 having met our EYFS curriculum goals and achieving a good level of development, enabling them to be happy, confident, independent learners, equipped with the skills and knowledge they need to continue to be successful.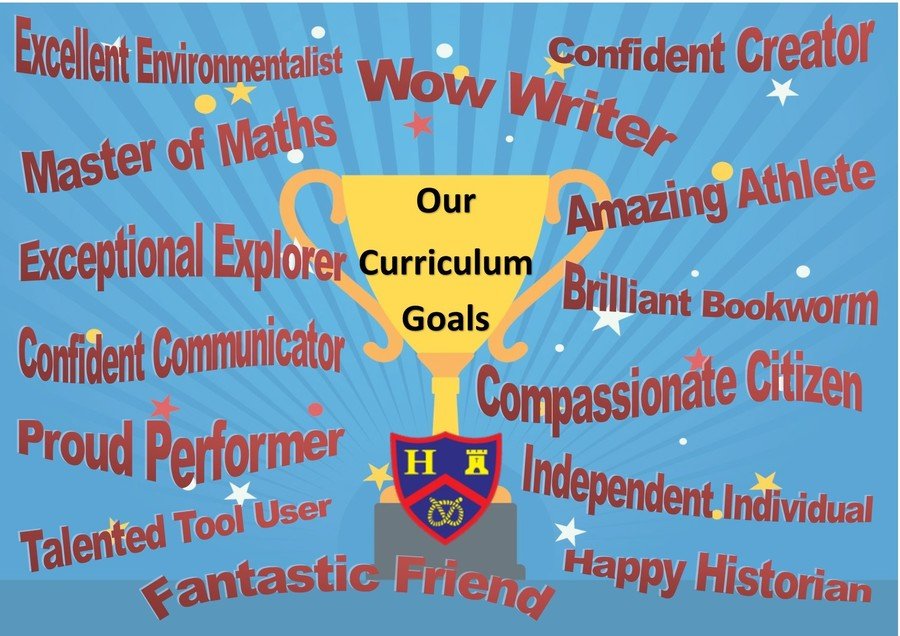 Our children leave the EYFS passionate about reading; understanding its importance for learning and with a broad range of vocabulary, enabling them to express themselves throughout all areas of the curriculum. They are able to make connections to their prior learning within the EYFS, and ultimately continue their Hempstalls Learning Journey and Leave as a Champion!