English
Our English curriculum aims to provide all pupils with the knowledge and skills that they require to succeed in life. At Hempstalls, reading is a priority to allow pupils full access to our curriculum. Books, high-quality text and poetry are highly valued and shared at any opportunity with all pupils. We aim to provide pupils with experiences that excite, engage and instill passion in reading, writing and communicating.
To encourage pupil's to develop and maintain a passion for reading and a craving for language, our English curriculum is centered around language-rich, high-quality texts. Pupils are exposed to quality vocabulary and thus develop a love for language; becoming eager to communicate creatively and effortlessly in their writing. Our creative writing approach allows for careful collection of vocabulary and discrete teaching of the mechanics of writing; including purposeful teaching of spelling, punctuation and grammar, to ensure pupils have the knowledge and skills to write fluently and creatively.
"Writing opportunities are carefully planned with purposeful and meaningful experiences linked to high-quality text. Pupils can write fluently and knowledgeably with confidence."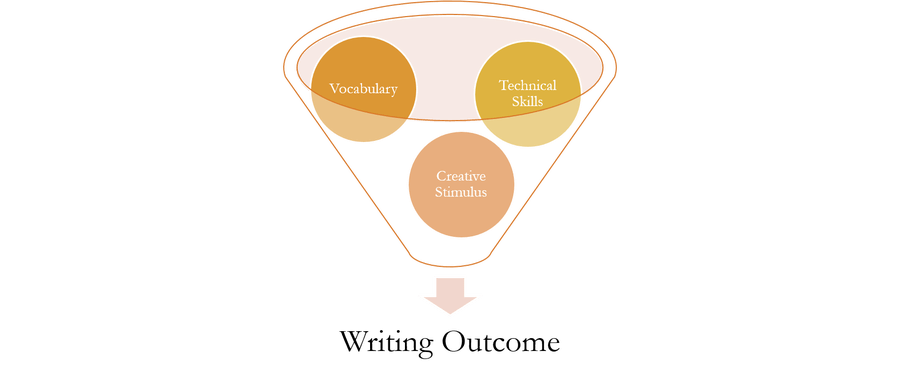 Our curriculum is sequenced and organised to ensure all pupils have access to content and learning experiences to make progress. Our concept-led curriculum allows for knowledge to be revisited in subsequent years allowing pupils to make connections to new knowledge from existing knowledge, and ultimately being able to remember facts and knowledge for longer.
Carefully selected, class texts provide excellent opportunities for oral language discussion as well as reading beyond a text. Pre-teach sessions allow teachers to explore what pupils already know and allow pupils to acquire necessary knowledge about the context in order to fully access the text. Reading and writing is immersed across the curriculum and pupils have opportunities to use reading, writing, speaking and listening skills in all areas of the curriculum.
Writing opportunities are carefully planned with purposeful and meaningful experiences meaning that pupil can write fluently and knowledgably with confidence. Our creative writing approach allows a sequence of teaching and learning which allows a build-up of knowledge and skills that are required for the specific writing genre.
Collaboration is key within our English curriculum to ensure continual impact and achievement. Our English curriculum aims to equip pupils with the skills and knowledge needed to access the whole curriculum and to succeed in life. Shared values ensure that all staff; understand the importance of promoting and encouraging reading, language and oracy. It is essential that through these shared values all pupils receive the same message that Literacy is paramount to their development in life.
We are a Royal Shakespeare Partnership School
For the past five years, Hempstalls Primary School has been lucky enough to be become part of a cluster of schools who are working with the Royal Shakespeare Company. With support from our lead school, Springhead Primary school, and the New Vic theatre the children have studied a number of Shakespeare's plays, watched live performances and had the opportunity to perform. As part of the project, staff have also received several opportunities for CPD looking at the highly positive impact of studying Shakespeare's work using rehearsal room techniques on children's language, reading, communication and writing.
The work of William Shakespeare is reflected in our curriculum, as a different play is studied each year across the entire school. In 2017, Year 5 worked on the 'The Tempest' and took part in a sharing event at Springhead Primary School. In 2018, the whole school worked on 'MacBeth' and Year 4 performed a piece inspired by Lady Macbeth's downfall at the New Vic Theatre. In 2019, the whole school and Year 3 worked on 'Romeo and Juliet' and once again Year 3 were given the incredible opportunity of performing at the New Vic with a full lighting and sound team. In 2020 Year 5 studied 'As you like it' and this year the whole school will be taking part in a Shakespeare half term after Easter looking at 'A Midsummer Night's Dream.'
As part of the project, in June 2018 two pupils were given the opportunity to perform at the Royal Shakespeare Theatre in Stratford. In 2020, two children took part in work experience at the New Vic for a week, during which time they worked in the props and costume department and learnt more about what goes on behind the scenes. Due to COVID restrictions we are unable to visit the theatre this year but Year 5 are set to enjoy live broadcasts of plays by the RSC including 'Dream' an interactive performance inspired by 'A Midsummer Night's Dream' set in the enchanted forest.
Pupil work experience at the New Vic Theatre in 2020